Mike Batt, the composer, producer and leader of the Wombles pop group, has been awarded Lieutenant of the Royal Victorian Order (LVO) in the Queen's Birthday Honours list, for services to the royal household.
The Royal Victorian Order is a personal gift given by the Queen to people who have served her or the monarchy in a personal way.
Mike said: "I was completely shocked – in a great way – to be told of this honour. It's particularly nice that the appointment to the Royal Victorian Order is in the direct gift of the Queen. I have obviously done something that has been recognised, but I can't think exactly what.
"All I can say is wherever I have been in contact with the royal household or been asked to compose or perform pieces for royal occasions it has always been an honour in itself. To receive an 'actual' proper honour is an unexpected bonus and gives me a lovely warm feeling!"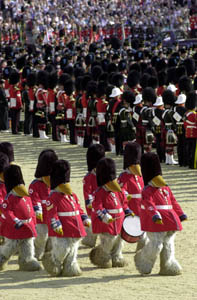 In July, Mike Batt will take part in the Coronation Festival Gala at Buckingham Palace, having been commissioned to write a special piece for the occasion. The piece will be performed by Katie Melua, who is signed to Mike's independent record label Dramatico.
In the Queen Mother's 100th birthday parade in 2000, thirteen Wombles marched as a guard of honour, dressed in specially made uniforms complete with bearskins.
The Queen is said to be a fan of the Wombles, and to have given the nickname 'Womble' to one of her dorgis (a dachshund-corgi crossbreed), Vulcan. The feeling is mutual, as Great Uncle Bulgaria is very fond of the Queen.
The Wombles' creator and author Elisabeth Beresford received an MBE in 1998, and told The Times: "When I went to get my MBE from the Queen, she talked non-stop about them. She knew more about the Wombles than I did."
Bernard Cribbins, the voice of the Wombles TV series, was awarded an OBE in 2011 for his services to drama.