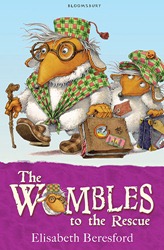 More information has emerged about the reissued Wombles story books due for release later this year by Bloomsbury.
First, an article from The Bookseller on 12 May confirmed that there will be six books: two in November, two in January and two in March. The new illustrations will be by Nick Price, and the books will include an introduction by Elisabeth Beresford and Great Uncle Bulgaria talking about how he met her on Wimbledon Common. Bloomsbury are even hoping to extend into picture books and possibly new Wombles adventures.
A more detailed article appeared on The Guardian's website on 13 May – 'Uncle Bulgaria and friends womble back onto bookshelves'. Bloomsbury's editorial director for children's books, Emma Matthewson, talks about how she was "desperate to see them in print again" so she wrote a letter to Elisabeth Beresford on Alderney, and was thrilled when the author got in touch and agreed to reissue the books.
Elisabeth Beresford says: "The Wombles have always been environmentally aware, recycling the rubbish that they find and putting it to good use, so it gives me particular pleasure that their adventures are also being recycled."
The Guardian also has a gallery showing all six new book covers: The Wombles return.