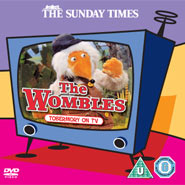 Uncle Bulgaria's favourite newspaper, The Times, is giving away a set of classic kids' TV shows, starting with a free Wombles DVD inside this weekend's Sunday Times (13 January).
The cover image shows Tobermory On TV, similar to the commercially released DVD that came out last March, but it's not clear how many episodes will be included on this free version.
Apparently there will be adverts for this giveaway promotion across television, radio, press and outdoor posters, although the only one I've seen so far was in the press (in thelondonpaper). So keep an eye out for Tobermory!
Find out more about the giveaway on the Times Online website.