The Wombles are among the stars of this year's BBC Children in Need charity single, featuring children's TV favourites past and present.
Boasting "over 100 famous faces", Peter Kay's Animated All Star Band made its debut during Children in Need night on Friday, 20 November.
The single is a medley of:
Can You Feel It (originally by The Jacksons)
Don't Stop (originally by Fleetwood Mac)
Jai Ho (originally by Pussycat Dolls)
Tubthumping (originally by Chumbawamba)
Never Forget (originally by Take That)
Hey Jude (originally by The Beatles)
One Day Like This (originally by Elbow)
Orinoco, Bungo, Wellington and Alderney appear in the Don't Stop segment, first singing around a microphone and then playing guitar alongside Pudsey Bear's guitar solo. They're also part of the final line-up singing Hey Jude and One Day Like This.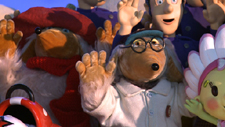 The audio version of The Official BBC Children In Need Medley is available now from music download stores including iTunes, with the video version also available from iTunes. A CD and a DVD (with a Sgt Pepper-style sleeve) will be in the shops from Monday, 23 November, or you can order them from Amazon
, HMV or Play.com.
Comedian Peter Kay said: "Children, parents, grandparents – in fact everybody is going to enjoy this. I can't believe it's come together and I'm extremely proud of all the work and time everybody has given to the project."
David Ramsden, chief executive officer of BBC Children in Need, said: "We are delighted that Peter Kay has assembled such an extraordinary line-up for this year's official BBC Children in Need single. We have no doubt it will capture the public's imagination and raise lots of money to help change children's lives."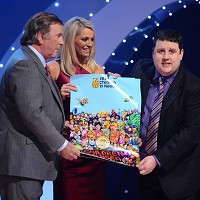 You can watch the video and a behind-the-scenes video, and find out how to donate to the appeal, on the BBC Children in Need website.
Update: An A3-sized poster is now on sale for £2 at Asda stores, or online from GB Posters (£2 poster + £2 delivery = £4 total). Peter Kay said: "It's fantastic news that the BBC Children in Need poster is going to be available to buy – the requests and demand for it so far have been extraordinary. I'm delighted that Asda has stepped in and decided to release the poster at such short notice. It can only generate more money for a very worthy cause."