Wandle the Womble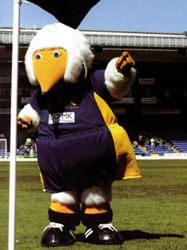 Wandle was the mascot of Wimbledon FC football club for three years, from 2000 to 2003. He was named after the local River Wandle and created by Wimbledon-based Rainbow Productions.
However, the owners of the Wombles brand didn't renew the license agreement when it expired on 30 June 2003. They no longer wanted the Wombles to be associated with Wimbledon FC as – despite its name – the club had relocated to Milton Keynes. The club is now known as the MK Dons.
Commenting on the announcement, Charles Koppel, Chairman of Wimbledon Football Club, said: "We are bitterly disappointed that we will no longer legitimately be able to be associated with The Wombles. Our mascot Wandle has been a popular figure at our matches and at events outside of football in recent years, appearing at many community and charity functions. However we do not own the rights to The Wombles and the owner does not wish to renew our licence so we are now looking for an alternative."
Haydon the Womble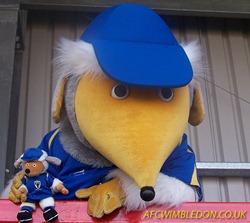 Haydon is the mascot of AFC Wimbledon (also known as the Dons), the football club formed by Wimbledon supporters in 2002 after Wimbledon FC moved to Milton Keynes.
Named after Haydons Road railway station, Haydon made his debut in August 2006. You'll find him at every Saturday home game, wandering around the terraces, encouraging fans. See Haydon's profile on the AFC Wimbledon website.
Haydon's, er, best friend is Dean Parsons. In the Dons Trust report for January to June 2007, Erik Samuelson wrote: "Dean has given Haydon the Womble, our mascot, a personality all of his own. Haydon has been one of the undoubted stars of the season and is in a class of his own compared to any other mascot I've seen, anywhere. Thanks, Dean, for bringing so much fun to the terraces and livening up even the dullest game."