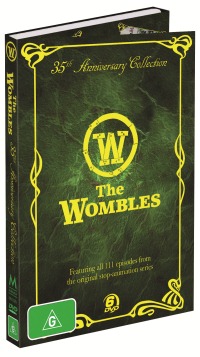 A six-disc Australian DVD box set is released on 5 May 2010. Its contents aren't clear at this stage, but it looks as if it may bring together the classic 1970s series and the modern 1990s series in full.
The information from the publisher, Magna Home Entertainment, shows the running time as 820 minutes, while the description refers to "all 111 episodes from the original 1970s stop-animation series". Other retailers mention 112 episodes – yet the original TV series only had 60 five-minute episodes (300 minutes).
To confuse matters further, the Australian Government's classification database lists The Wombles 35th Anniversary Collection with a duration of 300 minutes.
However, if you combine this with the 52 ten-minute episodes of the 1990s TV series (520 minutes), you get the grand total of 820 minutes and 112 episodes. If this is indeed the case, it will be the first time that the complete 1990s series is available on DVD.
This collection features a limited edition slipcase "commemorating the Wombles' 35th anniversary". Thirty-five years ago was 1975 rather than 1973, when the Wombles TV series began in the UK; was it first broadcast in Australia in 1975?
Note that this is a DVD region 4 (PAL) release.