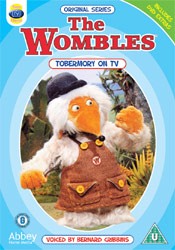 Congratulations to the winners of our recent competition, and thanks to everyone who entered. David Eastaugh and Helen Myers won a copy of the new Tobermory On Television DVD.
The follow-up to last year's Orinoco And The Big Black Umbrella DVD contains the second set of 12 episodes from the original TV series, from Tobermory On Television through to Games In The Snow.
The 60-minute disc also contains two 'interactive extras' – Meet The Wombles, with profiles of Wellington, Bungo and Tobermory, and a trivia quiz, Uncle Bulgaria's Brain-Teasers.
Get your paws on a copy of Tobermory On Television from Amazon
or all good DVD shops. If you buy it direct from the Abbey Kids Shop, new customers get 10% off.